Sand Dollar Wedding
The sand dollar is one of the popular beach shells to collect. It and the starfish are popular choices for couples planning a ceremony by the sea. The white color works well with any theme or design. These seashells (really they are echinoderms and not seashells) resonate with most people and therefore are the perfect choice to represent the couple.
The two images you see here link to the same collection. The sand dollar theme is carried over to RSVP cards and other products a couple may need.
Sand Dollar Wedding
The first two designs come from the Sandpiper Wedding store, and the collections below come from other designers at the Zazzle site.
This bright coral red wedding set is by Beck Yang.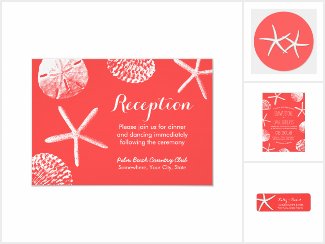 Coral Red Beach Weddings
The collection below is by Invitation Republic. The design combines lace and burlap with the beach theme for a pretty set of wedding stationery.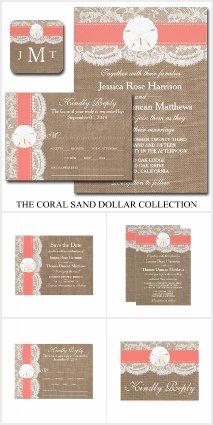 The Coral Collection
There are many options when it comes to choosing a design for a beach destination wedding. For more ideas please visit our designer wedding page.