beach-themed postage
designs, as well as our newest additions.
Personalize wedding invitations, thank you notes and any other mail by adding a custom stamp to the envelope.
Each wedding suite will often contain matching postage stamps. If you don't see any in the design collection you like, please ask and I will make them for you.
Our designs will coordinate with the theme any tropical destination wedding. Choose the correct denomination at the time of purchase according to the size (and weight) of the envelope. One way to figure this for wedding invitations is to take a completed wedding envelope, with all enclosures, to the post office and have it weighed.
At Sandpiper Wedding we carry many types of tropical themed postage stamps.  The default price is for a first class letter, so change it accordingly before purchase.  They are high quality and even the small size is quite large at 1.8 x 1.3 inches overall. Medium size measures 2.1 x 1.3 inches and the large is 2.5×1.5.
Images and text were designed with that particular size in mind, so changing the size of the stamp will alter the image. Be sure to preview it and make sure you are happy with the way everything fits in the image area. The stamp will print exactly as you see it.
Starfish Wedding Postage
This postage is part of the Seaside Blue wedding set.
Seaside Blue Floral Hydrangea Wedding Set
The blue and brown starfish postage stamp is part of the Starfish Couple, white beach wedding collection.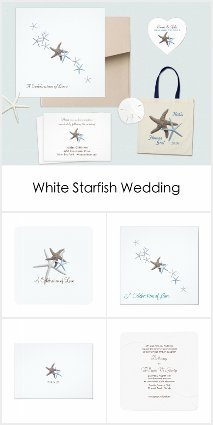 Starfish Couple White Wedding
View the entire Starfish and Holly Tropical Christmas collection by clicking the image below.
Starfish Christmas Wedding
The stamps featured here are just a small selection of what we offer. As is true for all my designs, I will gladly make the type of postage you desire. Contact me at bluehydpdc@gmail.com