Sand Dollar Wedding
The sand dollar is one of the popular beach shells to collect. White sand dollars make pretty, understated wedding stationery, with two together to represent the couple.
The two images you see here link to the same collection. The sand dollar theme is carried over to RSVP cards and other products a couple may need.
Sand Dollar Wedding
The first two designs come from the Sandpiper Wedding store, and the collections below come from other designers at the Zazzle site.
This bright coral red wedding set is by Beck Yang.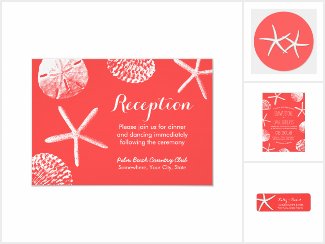 Coral Red Beach Weddings
The collection below is by Invitation Republic. The design combines lace, burlap and sand dollars for a pretty set of wedding stationery.

Two starfish make this cute "starfish couple" engagement party invitation the perfect choice for a beach-loving couple.
The engagement party is given for the couple as soon as possible after the engagement is announced. It can be given by either of the parents or families, or both families can go in together on the celebration plans.
But wait… this is a custom card… the text can be changed by the customer and used for a wedding shower also – see wording example below. What's the difference between an engagement party and wedding shower? Not much. It's all in what you make it. Rules are not hard and fast when it comes to celebrating young love. (Or even older love for that matter!)

The Engagement party can be an informal gathering of friends and family who want to congratulate the couple (and see the ring). It can be the first occasion where everyone hears about the wedding plans, if there are any made at that early time. The two families can get to know each other and make plans of their own to celebrate the happy occasion.
This is when the wedding shower, or bridal shower, can be talked about. The bride and groom can let their wishes be known and share a little about their plans for the ceremony.
An engagement party is one of the most exciting parties thrown for the couple before the wedding. It's a beginning to a new phase of life for the couple. There is magic in the air as two loving families unite behind two people who have been special to them always.