This is a tutorial about how to change background colors on some invitations. When an image of some type is used as the background, there will be no color to change. Only cards with plain colored background can be changed. Sometimes a background image can be removed to reveal a color beneath.
Recently Zazzle has given us designers a new design tool to use. So I am updating this page with a photo tutorial.
Finding the background color palette, and making changes, is easy with the new tool. For those customers who prefer to DIY, this page is for you! For those who want help, please contact me.
Here is my example product. This "story table number card" is done in black and white. This neutral theme appeals to many couples, but some couples want a color to match their wedding theme. Not everyone wants black.
Customize Cards With Your Preferred Color
The black and white photo card above, and the "reserved" seating card both have the option to change the black to another color. In fact many items in the Black and White Wedding collection, which are shown in black, can be changed to any color you wish.
Here's how to do it.

Once you click on that "customize further" button, the page below is what you will see. This is the design page. It's what the designers at Zazzle use to create products.
To change the color of the background, scroll down the page (you may have to choose "front" or "back" of card at the top of the page first). And remember, check the back of each item – the color there may need changing as well.
A set of colors will show, but if you want to have more options, choose "show color picker" and a gradient bar will come up. Move the button around to see variations of colors, or add a hex code to the little box if you know the specific color you need.

I chose the color with Hex# 36BACB, which is a pretty aqua blue.
Next, choose the "back" of the product and change the color there as well. The first color shown in the color selection area will be the same as the color on the front.
When you are happy with your colors, click "Done" at the top and go back to the product page to order.
You can see the finished product, in pretty aqua blue, below.
**If you are in the middle of changing something and don't like what you've done, simply refresh the page to go back to the original product and begin again.
Remember Your Color Hex Code to Use Elsewhere
Once you have your custom color, write down that hex number. That way it can be used to match other products.
For instance, here is that "Reserved" seating card (shown above) in the same aqua blue color.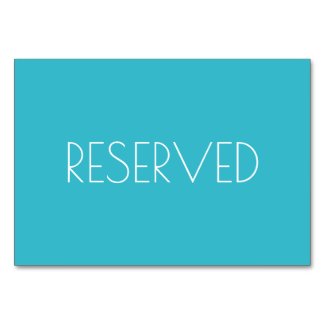 Don't want to mess with this yourself? I'm always happy to make any changes for you at no additional charge, but this tutorial may help you customize easily on your own.