Sand Dollar Wedding
The sand dollar is one of the popular beach shells to collect. White sand dollars make pretty, understated wedding stationery, with two together to represent the couple.
The two images you see here link to the same collection. The sand dollar theme is carried over to RSVP cards and other products a couple may need.
Sand Dollar Wedding
The first two designs come from the Sandpiper Wedding store, and the collections below come from other designers at the Zazzle site.
This bright coral red wedding set is by Beck Yang.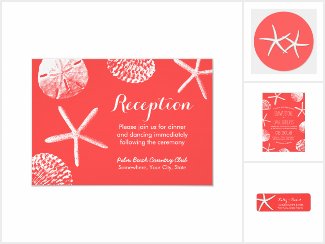 Coral Red Beach Weddings
The collection below is by Invitation Republic. The design combines lace, burlap and sand dollars for a pretty set of wedding stationery.

What fun to have a wedding reception on the beach! Have it at night and celebrate around a big bonfire and make it even more memorable.
View the entire Beach Bonfire set in our collections section.
The Seaside Blue Hydrangea wedding suite is lovely and appropriate for a beach wedding setting or summer event. See the small selection of what we offer in this beautiful set, in the image link below.
Wedding: Seaside Blue Hydrangea
Our matching paper plates contain curved, custom text and can be used at the wedding / bridal shower. Customize with the couple's names, and order in 7 or 9 inch sizes.
Thank you cards, with a custom message inside, can be used to thank guests for their thoughtful gift, or to thank the members of the wedding party for their unwavering support during all the planning and rehearsing. Because you add whatever text needed, it's possible to include names inside each card to make the message very personal.
The starfish and hydrangea set has two separate designs. Featured here is the blue background color, but beige burlap background is also a choice. The blue on burlap invitation has casual wording and a place to include the reception address. Skinny address labels and postage stamps can also be found in this collection.
Meet our new turquoise and pineapple wedding invitation design. This brand new design for 2016 contains a matching reply card and custom gift tags, with much more to come.
Tropical-themed, unique wedding stationery design can be used for most any destination wedding celebration. From an island hopping cruise event to a backyard ceremony in the tropics, we can create the perfect set for you.
About the design: A rustic first layer contains barn wood in lovely shades of blue-green (aqua, turquoise, aquamarine) to represent the beautiful color of a tropical sea. Over the blue, I added a random scattering of large and small pineapple images. I found the pictures at Pixabay and isolated the pineapples to use on my new invitations, and many products. As the design began to come together, I decided that the text should be unique as well, so I made a quatrefoil white panel and filled it with modern, upper-case print. The cut-corner edge (ticket shape) of the invitation appeals to me, but you can easily change that on the product page. I would upgrade the paper to something fancy, but basic paper would work as well. At Sandpiper Wedding there are many options. Feel free to contact me for help.
I need to get started on matching envelopes for the reply cards, and don't miss our new belly bands.

The Bayside wedding suite collection contains invitations and reply cards as well as many matching items.
The theme is "destination, beach" as are all of our wedding sets. The Bayside stationery design is an elegant champagne gold, gradient color with white starfish. Graphic "ribbons" hold the starfish in place while the text is printed over a white panel. The effect, on some of the paper, is that the ribbon is wrapped around the printed invitation and starfish, which creates a unique presentation.
Besides invitations and reply cards, this set contains two personalized wedding planner notebooks. One has a photo template, and both have lined paper inside to jot down plans, keep written thoughts when visiting wedding venues, or journal feelings leading up to the big day. Fill 80 pages of this spiral bound keepsake, with information to read on anniversaries as you celebrate the years together.
Also find shower invitations, stamps, stickers and labels in this collection. As always, please shoot us an e-mail and request any items you may need.