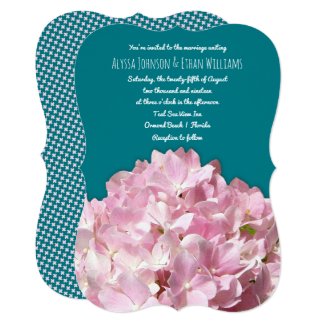 Big Flower Teal Pink Custom Wedding Card
by
sandpiperWedding
Teal bracket shaped invitations with a big pink hydrangea flower covering the bottom. Names of the couple are printed in tall text, but the rest of the invitation is bold script.
Upgrade the paper type to add elegance. Plain white envelopes are included, or choose the pocket envelopes offered by the
Envelopements
company. See those on the product page.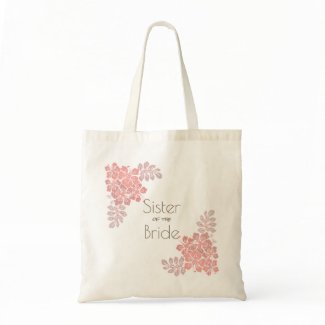 Coral Pink Hibiscus Sister of Bride Tote Bag
by
sandpiperWedding
Pretty pink cloth tote for the bride's family, and especially her sister. The tropical design contains outlines of hibiscus flowers in subtle pink and mauve colors. The font style is modern, thin print and can be changed in two places.
The bag is one of the smaller styles offered through Zazzle, with other sizes and colors available. We have a wide selection of
custom gift bags
for family members and bridal party members. The bag itself makes a nice "thank you" gift, and can be filled with additional surprises.
In addition to giving totes to those close to the bride, how about thanking guests who attend a faraway destination wedding event, by giving them a
wedding welcome bag.
Our custom gift bags can be designed with custom text for any member of the bridal party or family members. This "daughter of the bride" bag is a cute gift with a bright, Hawaiian flowers print. Young ladies will appreciate the fun and funky flower border, with thin printed and pretty script fonts in template form.
Could be "Daughter of the Groom", or "Sister of the Bride" or whatever you need. Durable cloth totes make excellent gifts which can be filled with goodies, so they double as the "gift box" as well. Every bride loves to give favors that are useful, and bags are popular for this reason.
Our custom bags come in many styles with color options. This bag (above) measures approximately 15 x 15 inches and is machine washable. Turn inside out to help preserve the printing.
The jumbo tote below, is larger and measures 15 x 20, and 7 inches high, with a squared bottom.
The impulse tote is also a larger bag with a smaller design image printed on the outside pocket. The light blue trim can be changed, to pink, navy, red, royal blue, black, lime or green.

Have you ever seen personalized wrapping paper? You are about to… Yesterday I spent a good chunk of time creating this tropical-themed Christmas gift wrap with personal photo templates. Upload two of your favorite photos which will be displayed across the paper in rows. The nautical rope frame is decorated with starfish and holly, with more of these elements scattered over the roll. Here's how it works. You will find this on the product page:

Zazzle sells nice, quality wrapping paper on a roll. You will even have a choice of sizes and paper types. Choose from matte, glossy, linen and tyvek. The matte paper is the cheapest, with a soft surface. Glossy paper is ideal for paper like the type here, with photos. Linen is an upscale, cross-hatch type paper and Tyvek is rip resistant, and also the most expensive. Each roll is 30 inches wide and comes in lengths from six feet to sixty feet long, so it's easy to have enough to wrap presents! Continue reading Christmas Gift Wrap With Personal Photo Templates →
Our new tropical case designs are meant for those who love the tropics. Hawaiian flowers, seashells and scenes from the beach provide protection for the most recent models of the Apple iPhone, Samsung Galaxy and Samsung Note. As smartphones upgrade, older versions of the cases die off. Each product page contains a drop-down menu, where you will find the versions offered for each of my tropical cases.
The Otterbox is a heavy duty case and comes with a basic shell color of black or white. The image below shows the tropical cases on the iPhone 6, but check the drop-down on the product page to find your phone model. We also offer this design (below) without the Otterbox option.

Below is one of my phone designs shown on the Galaxy Note 4. It can also become a cover for the iPad or iPod – in various models. (Also view these in the drop-down menu.) This masculine, wood and leaves design would work well for a guy. We also have this design with a dark wood background.

As you can see there is a wide option of smartphone, ipad and ipod covers. These unqiue designs can only be found in my Seashells by Millhill store at Zazzle.
You may also begin with a plain case and add your own artwork, designs or photography to it.
Begin here.